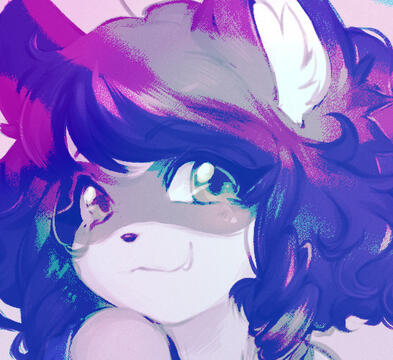 CHINJIRETA
hello there! i'm suzie.
i'm an animator/artist, a jp/french translator, a vocalist and a VOCALOID/UTAU user!
you can learn more about me by clicking one of the links below!
CHINJIRETA'S TERMS OF SERVICE
---
by commissioning me, you're agreeing to the following:
i will not start a commission until i've been paid.

i have the right to refuse any commission for any reason.

before the commission is started, you can ask for a full refund. once i've begun it, refunds are not permitted.

edits that aren't too big can be discussed. (a missed marking, coloring that's off, etc.)

if you're going to re-upload my commission, credit is absolutely necessary.

i like to upload my .sai and .psd files to patreon, including my commissions. please fill out in the form whether you are comfortable with that or not.

the prices on my commissions are non-negotiable.

i tend to take a little while on commissions, about 1-4 months. if i take any longer than that, please let me know.

i can provide work-in-progress pictures.

please do not trace or highly reference any commission i've done for you. small edits are fine.

the art that i have made for you is still my artwork. you're not allowed to claim the work as your own creation.

when using paypal, please use USD.

my prices may change at any time.

i take payments through paypal only.
---
THINGS I'LL DRAW
pretty much any animal/anthro character is alright, although i'm better at mammal characters.

humans

MLP characters

couples (of any orientation)

simple colored backgrounds

small amount of gore. ex: small cuts, light candy gore, etc.
---
THINGS I WILL NOT DRAW
NSFW

hard gore

copyrighted characters

hate art

anything offensive EX: r/pe, b/stiality, p/dophilia, hard drug use, swastikas, confederate flags, etc.
---
PRICES AND EXAMPLES
---
COMMISSION FORM
YOU CAN CONTACT ME THROUGH MY BUSINESS EMAIL, TWITTER, DEVIANTART, OR INSTAGRAM
commission type:

method of payment:

character reference (flat shading is preferred):

can i upload the .sai + .psd of your commission to patreon?:

character species:

eyelashes or no eyelashes (this is so i don't portray a character incorrectly):

specifics or requests (expression, outfit, etc.)
SHE/HER・17・BISEXUAL
hi there! my name is suzie.
i'm kind of soft-spoken, shy, and i'm

terrible at replying to people.
i'm 5'5'' and currently in a relationship with a

boy.
art by @oncha on DA
at the moment, i'm learning both japanese and french, with japanese being my main language of study. if you want to speak to me in that language, please DM me about it!